Ventos da Bahia
The Ventos da Bahia wind farm was the first EDF Renewables project in Brazil. Currently, the park has 3 phases, phases 1 (66 MW) and 2 (116.6 MW) in operation since 2017 and 2018, respectively, and phase 3 (181.5 MW) under construction. In December 2020, Omega Geração, a publicly traded Brazilian company, acquired 50% of phases 1 and 2. EDF Renewables is responsible for asset management.
The park is located in the municipalities of Mulungu do Morro and Bonito, 340 km from Salvador, in the state of Bahia. As of 2022, the 3 phases will total 108 turbines and will be able to avoid the emission of around 260 thousand t of COշ per year.
+ de R$ 1,85

BILLION IN INVESTMENT

365 MW

IN OPERATION AND
UNDER CONSTRUCTION

260 000
tons of CO2

AVOIDED ANNUALLY

108

AEROGENERATORS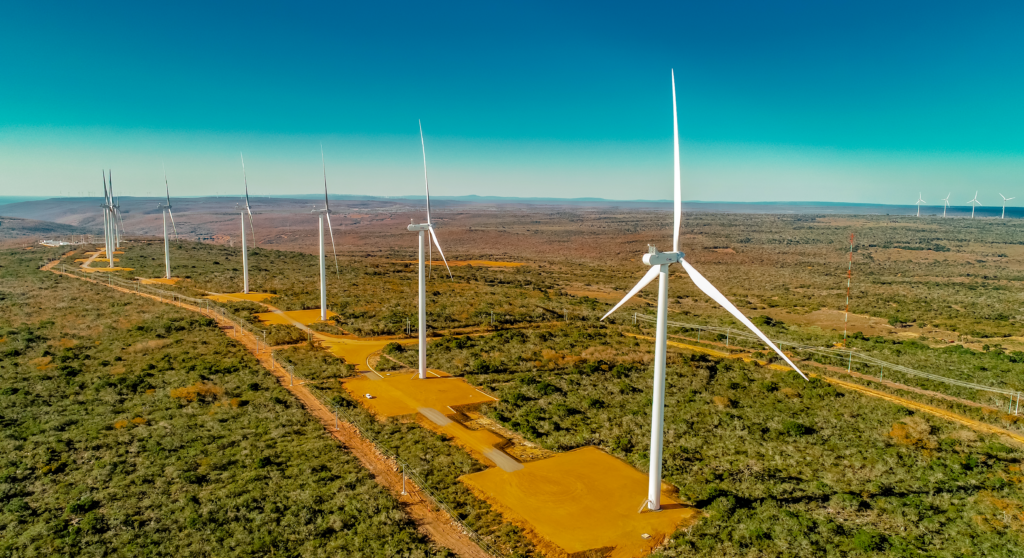 Folha Larga Norte
The Folha Larga Norte Wind Complex (344.4 MW) consists of 2 phases and was made possible by contracting the sale of energy at government auctions in 2018 and by entering into commitments in the free market, such as Braskem's PPA. Under the agreement, the largest producer of thermoplastic resins in the Americas pledged to buy energy from the EDF Renewables project for 20 years. The entry into commercial operation of phase 1 was achieved in October 2020 and that of phase 2 in May 2021.
The park is located in the interior of Bahia, in the municipality of Campo Formoso. The generation of both phases will be enough to meet the consumption needs of around 850,000 Brazilian homes and avoid the emission of approximately 285,000 tons of COշ into the atmosphere per year.
+ de R$ 1,5

BILLION INVESTED

344 MW

IN OPERATION

285 000 tons of CO2

AVOIDED ANNUALLY

82

AEROGENERATORS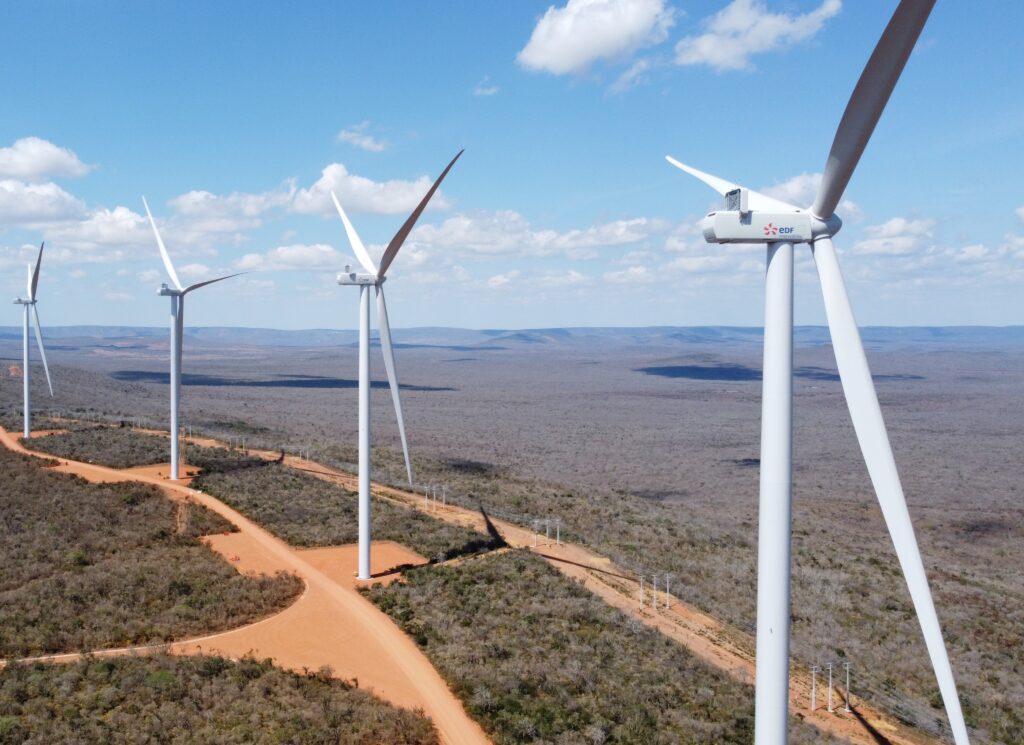 Serra do Seridó
The Serra do Seridó wind farm (242MW), located in the municipalities of Junco do Seridó and Santa Luzia, represents the first EDF Renewables project in the state of Paraíba, northeastern Brazil. The project was made possible by the 2019 federal auction and by PPA on the open market. The works for the construction of the Serra do Seridó winf farm will start in 2021 and the entry into commercial operation is scheduled for 2023.
R$ 1

BILLION IN INVESTMENT

242 MW

UNDER CONSTRUCTION

208 000 tons of CO2

AVOIDED ANNUALLY

44

AEROGENERATORS